Quality and innovation
You will receive the most beautiful images directly digitally via our Hello Mom app. This app means that you have the photos digitally directly on your smartphone and on suitable smart TVs. This means that we can provide you with many more photos.
If the photos are on your smartphone, you can share them with friends and family via email or social media if you wish. So very handy!
The ultrasound technicians at Praktijk Onder De Linde are all trained to perform medical ultrasounds. To guarantee the quality of the ultrasounds, there is a partnership with the VUmc.
Lovingly
We think it is important to offer you the best possible pregnancy. Our midwives work every day with a lot of passion and love to pursue this goal.
Insured ultrasounds
The medical ultrasounds that you are offered during your pregnancy are reimbursed by the health insurance. For most pregnant women this means an ultrasound around 10 weeks of pregnancy, the term ultrasound, the First Trimester Structural Ultrasound Examination (ETSEO), or the 13-week ultrasound, and the Structural Ultrasound Examination (SEO), also known as the 20 weeks. called echo. In addition to these standard ultrasounds, it is possible that there is an indication for an extra ultrasound, this is possible if there is doubt about, for example, the growth or position of your child.
You are welcome at Praktijk Onder De Linde for all these ultrasounds. More information about the reimbursement of ultrasounds by health insurance can be found here.
The ultrasounds are well planned so that there is plenty of time to visualize your baby and to explain it. In a pleasant environment and with a lot of explanation, you get a special look inside your belly!
The number of photos and the quality
There is no limit to the number of photos. Of course, the number of beautiful photos depends on the position in which your baby is lying in the belly. The more beautiful it is, the more photos we can take and give!
Usually we are able to make beautiful images of your baby. However, there are factors that cannot be influenced, which partly determine the quality of the images. As mentioned, the position of your child determines the quality, but there are many more factors. To name a few: the place where the placenta is located, your posture, the amount of amniotic fluid. This and other things can affect the quality. Of course we do our utmost to provide you with as many beautiful images as possible.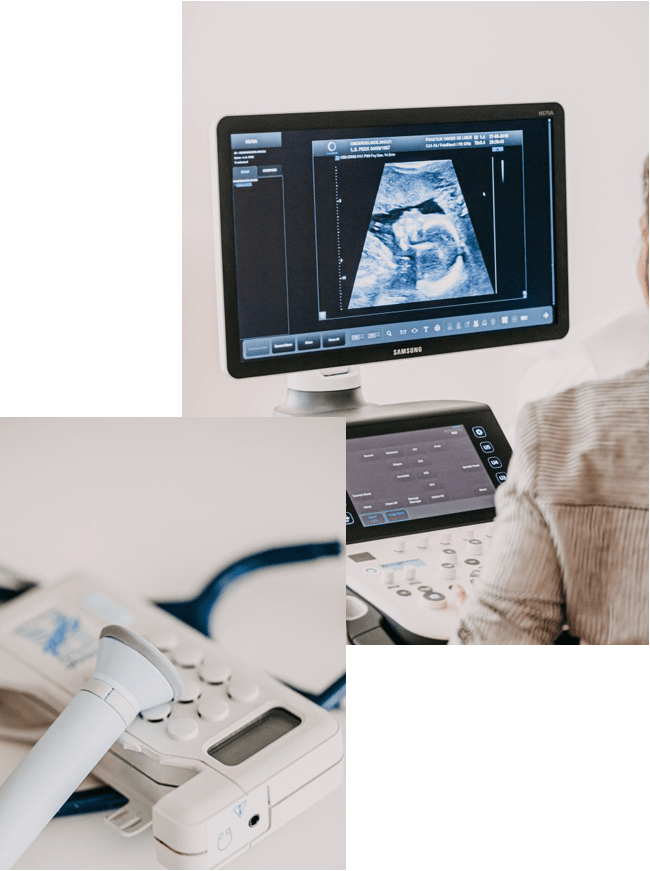 View an impression of our obstetrics here